How many types of lamps are there? By their shapes we can list several. To begin with, there are the floor lamps, which are the ones that rest on the floor and are usually the tallest ones as well. These types of lamps are quite decorative, since the distance at which they illuminate can serve to give emphasis to an object or place in particular.
Then, there are the table lamps, which are the ones we commonly put next to our bed to read at night. In the same way there are desk lamps, which are designed to illuminate a specific work area.
In other decorative styles we have ceiling lamps, also called chandeliers, which are fixed and can be placed at different points, as well as arranged in a row or isolated.
On the other hand, there are the suspended or hanging lamps, which are those we know as chandeliers, which have very varied designs. In addition, there are the wall lamps, which are usually placed repeatedly in the same space, for example in the bathroom.
Some lamps include small screens, while others seek to provide general lighting that can expand throughout the room.
What are your favourite types of lamps? Would you like to include other styles in your spaces? Tell us about your interests and write to us about the topics you would like to read about.
Modern lamps with minimalist style
Our experts recommend modern ceiling lamps as the first option to decorate your home in a very different and original way. When we talk about modern ceiling lamps we refer to those models that have a really original and different design from the classic ones and therefore they will bring a lot of life and actuality to your home. Within the modern lamps one of the most valued options are the minimalist style lamps that are nothing more than those that have very fine and simple lines.
These types of lamps do not have any kind of decoration and they are usually one colour only, of course without prints or drawings. They are the best option to make the rest of your home stand out or if you are decorating your house with a very original minimalist style.
Nordic ceiling lamps
Secondly, there are the ceiling lamps with a Nordic finish. This type of ceiling lamp is a great alternative for decorations in white tones and to complete decorative styles in general. They are lamps that stand out above all for being very simple and also for presenting different and very original geometric shapes. In addition these lamps are of grid and come with geometric forms with finished of metal. As for the colours in which you can find them, white stands out, but there are also models in bronze and black.
Designer Ceiling Lamps
On the other hand, designer lamps are another very interesting type of ceiling lamp for any home because they will bring a lot of style and will give a sophisticated touch to any living room or room. Usually this type of lamps have a higher price and are the best option if you are looking for a lamp that attracts a lot of attention.
Natural style lamps
In contrast to the design we find the lamps made with totally natural materials such as wood, rattan or bamboo. These ceiling lamps are the best alternative for rustic decorations and are also very natural.
Classic ceiling lamps
Also, the totally classic ceiling lamps have an elegant yet simple design and are a great alternative because combined with a modern decorative style they add a different touch to a unique decor. We are talking about classic chandeliers with original details to achieve the best style to decorate your home.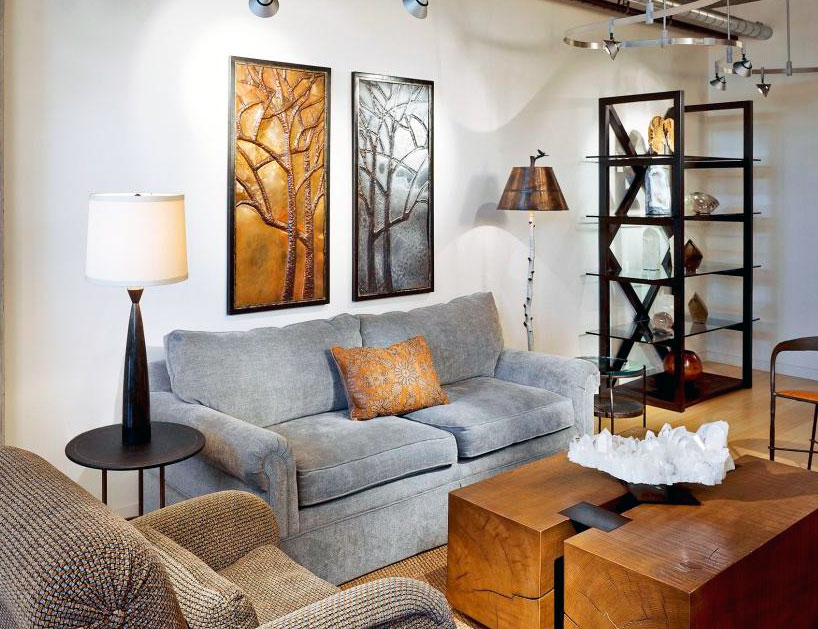 Tips for choosing modern chandeliers
Also, when selecting an ideal type of ceiling lamp for a very modern decoration we recommend you to take into account some points.
Think about whether you want the lamp to capture all the attention in the room or whether you want it to be discreet. In general, they are lamps that are visually really beautiful but it will depend to a great extent on your tastes whether you manage to capture all the attention with them or whether you manage to simply add a plus to the decoration without capturing all the attention.