By tropical decoration, we mean one that uses bright colors and earthy elements.
Nature should be present in this type of decoration, as well as bright colors, which make us think of our natural environment. On the other hand, this style is constituted from pieces made with materials such as wood, wicker and fabrics or fabrics that give vitality to the space.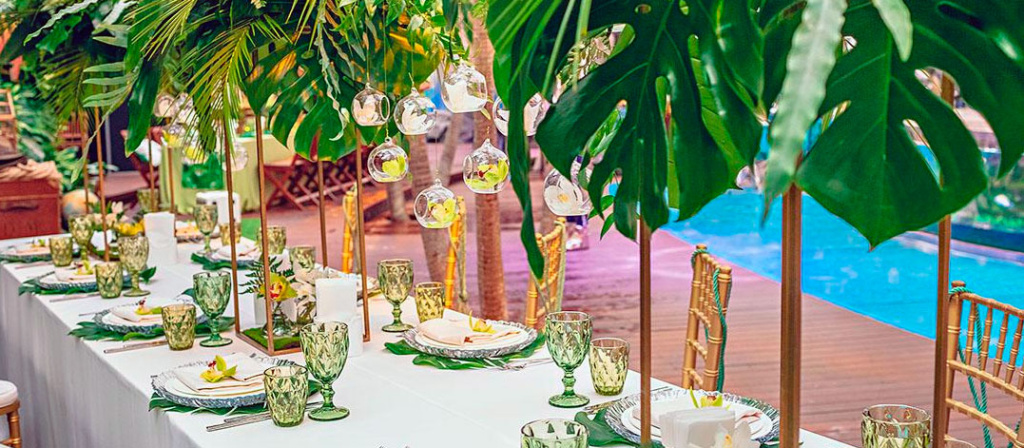 In the same way, this type of decoration can be used in businesses related to tourism or that are located in places with abundant vegetation. However, tropical decoration can be applied not only in those places, but also in places such as the house garden or the terrace.
In tropical decoration, lush flowers, fruits and other indoor plants can be used.
The main objective of this decorative style is to create a feeling of warmth and comfort, in a pleasant atmosphere full of natural textures and materials. What do you think about this style? Are you attracted to it? What kind of places do you think you could include it in? At Woodngo we want to offer different views on the topics that interest our customers the most. We look forward to reading your comments and ideas.
Do you like the tropical style? Probably because it evokes enjoyment, holidays, joy and moments of relaxation.
The good thing is that all these sensations can be transferred to home decoration. This style will instill freshness and warmth, as if you were on an island by the sea.
It is a new trend that is characterized by the contribution of colors and an exotic decoration that inspires peace and harmony. A new way to connect with nature without leaving your home.
It can be applied to every room of the house as it is very versatile and easy to adapt. You can make small changes, or make great modifications in some environments.
This type of decoration, so cheerful, colorful and at the same time relaxing, will positively influence the mood.
Adding natural materials
Light-coloured wooden furniture perfectly complements this type of decoration. Small furniture or wicker or bamboo details can be added. If you don't want to make big changes, you can add a wooden lamp or a chair; that will give a change towards the tropical.
Plants for a tropical style
A good idea is to place plants of different species and sizes to obtain a space that has been converted into a tropical forest. There are many advantages of vegetation inside a house, since it transports nature and all its benefits.
A highly recommended plant is the palm in a large pot. You can also place several hanging plants and take advantage of the different green colors to achieve a striking visual image. The more green plants you add, the better.
With these tips you will be able to transfer all the color and joy of tropical environments into a home. In addition, it will bring back images of calm seas and dreamy beaches. If you want to live in a tropical paradise but can't, don't hesitate to opt for this type of decoration.