What ideas do you get when you walk into an abandoned space? Have you ever thought that what was once an office or an industrial facility could become a department or something like that?
Loft-style decor, which emerged in the 1950s. It is characterized by being used in large areas with few divisions and large windows, through which we let natural light pass. This style arises from the need to get living spaces at lower prices, which is why abandoned factories or warehouses began to be used to be fitted out as apartments for students and artists, above all.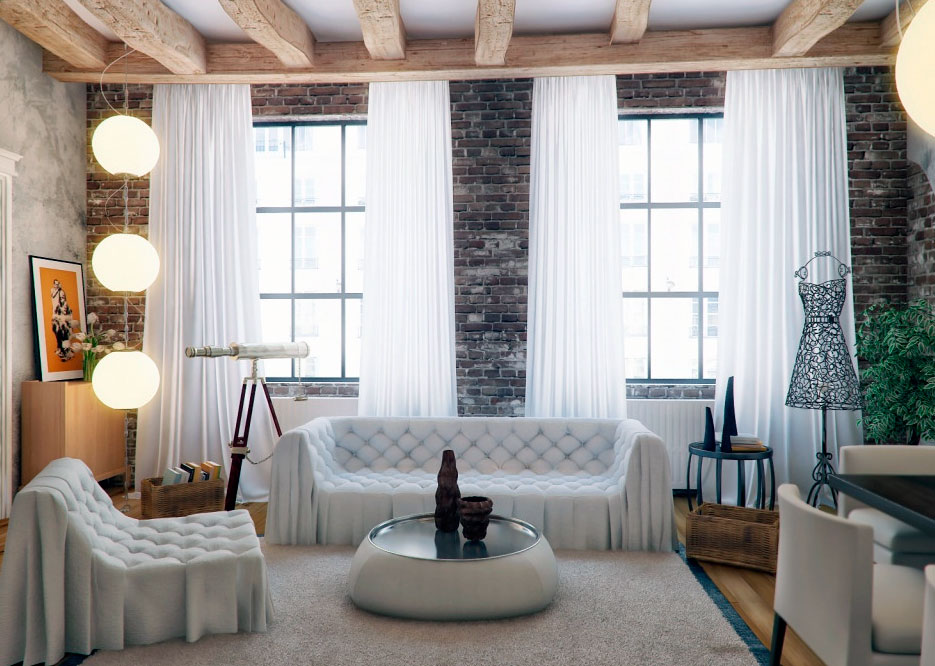 Another characteristic of the style is the high ceilings, since the installations were taken without making great modifications to its structure. Stairs are also used to divide rooms, as well as sliding doors.
In a loft decoration, the order, the cold colors, like blue and white, as well as the geometric forms predominate. This style also stands out for the lack of decorative elements, that is, it expresses sobriety in the environment. The most used materials are metal, aluminum, glass, among others.
What do you think of this decorative proposal? Would you like to try it out? Send us your opinions about it, remember that we want to offer you solutions and alternatives for your spaces. Have an excellent week.
Loft style materials
In general, the most commonly used materials in this type of decoration are brick, cement, plastic and metal. In this way a very industrial aspect is achieved, which is increased when combined with the beams, columns and walls of these spaces.
Loft style colours
Generally, colors such as blue and gray are the most used. That is, cold colors are the most characteristic of a loft. To a lesser extent, but also widely used, are the earth colours.
Loft style lighting
One of the most striking aspects of a loft is its lighting. With its large windows and plenty of space, lighting is one of the most characteristic aspects. It is very important that the outside light penetrates the room. In addition, attention must also be paid to artificial light. The lighting should be renovated with different light points in the interior. It is very common to see cables in view of the different lamps that become the main elements of the decoration.
Spaces for a loft style
Space plays a very important role when decorating a loft. Generally, ceilings should be high. In addition, it is very important that the spaces are open and that there are as few partitions as possible.
Although the decoration of a loft is somewhat cold, the important thing is that thanks to the decoration we achieve in the room, a warm atmosphere is created. The minimalist style and its main characteristics can combine very well in this type of decoration. This type of decoration allows to leave certain details of work in sight: the columns or the cables are usually very habitual.