One of the mistakes that parents usually make in interior design for children is to create the style of the children's room as we have always dreamed of it. It's a big mistake. Don't add your fantasy to that of your little ones.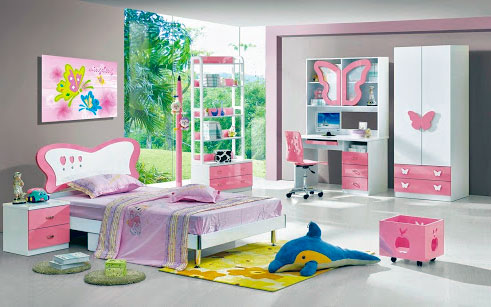 When it comes to interior design for children, you have to listen to what they want
Interior decorating for children offers a great opportunity for children to express their personalities, and it can be a great opportunity for parents to learn more about their children. "I'll ask a boy to tell me about his favorite colors," while his mother thinks it's blue and the girl will say it's red. A girl may want a working studio in her room to make art, and her parents won't let her do that. They don't know how important art is in this girl's life. Some parents are reluctant to accept that, however small our children may be, they already know what they like and what they don't like and they want their personal space, to their liking, where they can recognize their aesthetics.
Don't spend a lot of money on trends
Only follow the trends if they work for you, their child's age and your home. For example, soft Flokati rugs are a tactile appeal for children, but impractical when it comes to cleanliness and safety. Furniture dedicated to some character has a very limited lifespan in children's interior decoration. It's okay to have some accessory, but don't compromise the whole aesthetic on something that will be out of fashion in a year.
When you decorate children's rooms you have to think about accessories
Accessories are a great way to introduce a trend, as they don't cost a lot of money. Sometimes the goal is to agree with our sons and daughters on a middle ground between what they like and what we think will look best to us.
Decorate the nursery giving priority to full beds
There are many families who decide to buy a room with a child's bed instead of buying one with a large bed mattress (usually 190x90cm). If the family economy allows it, there is no problem, but if you want the decoration of the children's room to last a few years, it is a mistake. As soon as your daughter or son reaches the size of the bed you will have to change their bed, and if the model of the set is no longer manufactured, you will have to eat a lot of head to combine it.
In interior decoration for children, built-in furniture should be considered
In addition to being fully integrated furniture, built-in cabinets have a much longer life span. They generally last as long as the house, so they are furniture that always has an added benefit. Often, when a child goes to college, his or her room becomes a home office or a guest room. Rooms with built-in closets will always be easy to convert into any other type of room.
Don't spend more than you can afford when you decorate the children's room
It's easy to get carried away and end up spending more than you intended, especially since children don't separate "need" from "want". Ask your child to make a list of all the things he or she wants for the room, from carpets to a lava lamp. Then, you can commit to the three or four most important ones and add the rest of the list as your budget allows.
Think about the quality depending on the use you are going to give to the furniture. In interior decoration for children you must be very clear about how often you are going to change the decoration: if you are going to make a room for each stage (preschool, primary, secondary …) do not spend a lot of money on furniture that should not last more than 3 or 4 years if you are going to make a room that you want to last many years, you should invest more and make sure it is easy to combine and repair furniture to change the style and always have it right
Let them participate in the decoration of their rooms
They always want to help. They love to participate in any family event. Imagine if we talked about their future room. Let them do important things. Let them paint the smooth areas, help decorate, let them create some art in a frame… The more they participate the more they will feel that room. Besides, it's a great opportunity to share quality time with them.
As a mother, I think it's surprising how many people don't put their children "to work". It's a great opportunity to get to know our little ones better and let them talk and express themselves.
Conclusion
If we are serious about interior design for children, it will pay off and they will have fond memories of a time they will want to repeat with their offspring and, who knows, maybe when they go to decorate your grandchildren's room they will want to relive it all with you again.